---
INTRODUCTION:
Our "hybird asset-management and migration tool" is now available in beta!
We are opening up the beta to any company that would like to take part - on the basis you can provide us some feedback on how we can improve our product and tailor it to your needs.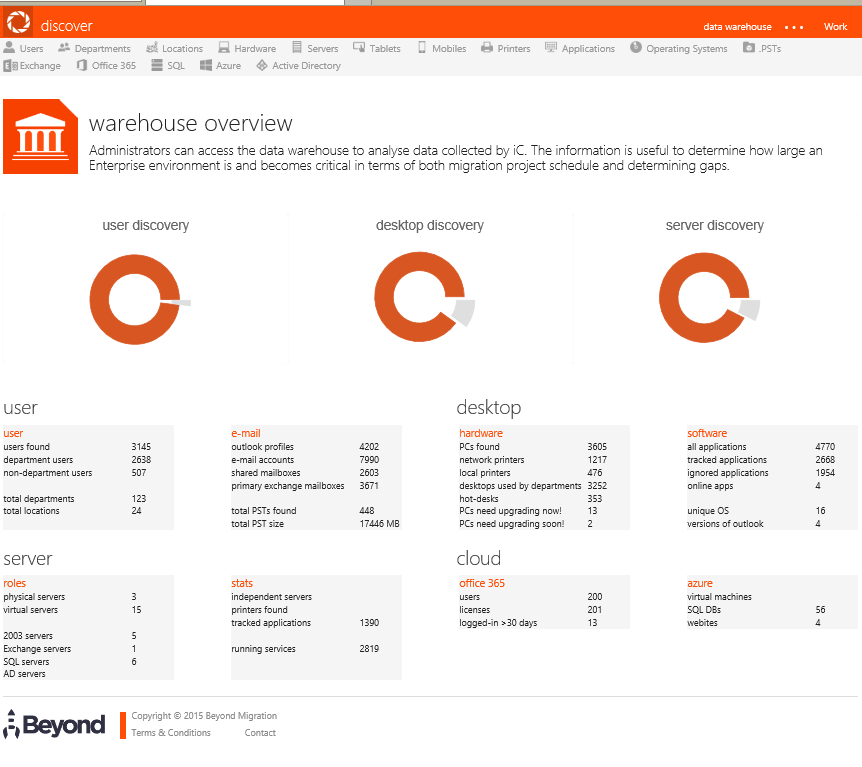 The software is currently being used in businesses varying from 150 to 5,000 end-users. As a cloud offering the platform is scalable and usable worldwide. The benefits:
A single portal for all your asset management and migration project needs
A modern and well-designed interface
Agentless solution with low resource requirements from your team
---
Planning a Windows Server 2003 End Of Life or Windows 7 Upgrade?
No matter what size of company we have delivered technology projects, there has often something common between each client site - maintaining and inventory of the environment was always a manual process. Even if there was a configuration management database ("CMDB") in place getting data into that was not often automated. Manual CMDB and asset management has its challenges:
Information is out of date soon after adding it to the CMDB.
The inventory can be spread across various spreadsheets and databases
The resource drain - at least one person needs to maintain the spreadsheets and data
In addition to the problem with manual CMDB entries, we have met many clients that needed to move to "new" technology but did not want to invest in migration tools because they deemed them both expensive and disposable. This meant that we often developed bespoke in-house migration tools to help that client and or project. But similar to manual asset management activity these bespoke tools and associated spreadsheet can also become out of date.

So it became our mission to bring this together - an automated systems inventory (or asset management tool) combined with migration tools to move to new technology - all based on our experience in the field.
That product is called "Lens". We named it Lens because we felt it provides "sharper focus" on your infrastructure.

Our field experience has showed us whilst a lot of asset management information and migration capability was already available with existing systems already purchased this information was difficult to collect and collate and it was also very difficult to understand.
Asset Discovery
First and foremost we need to build the CMDB. There are many discovery tools out there but ours has been built with the intention to help both identify what hardware and software is out there but also assist you plan migrate to new technology. Making the investment in creating a CMDB worthwhile by re-using the information gathered to manage your IT life cycle and related projects.
At the time of writing we are focused on Windows Desktops and Servers, hardware and software and some cloud capability (Office 365 / Azure). We are currently engineering a Linux solution and will be connecting to mobile devices in order to provide a view of the full environment.
Project Planning
Put simply, we take the information from the CMDB to allow you to plan a migration to either Office 365 or Windows 7, Window 8 (or WIndows 10 later in the year). The project plans within Lens are plans we've used ourselves to migrate customers to these technologies so we know they are tried and tested.
Migration Projects
We aim to provide full scheduling capability for Windows migration teams.
Some of the of the challenges we have seen on a large scale Windows 7 migration we have experienced have been:
Identifying assets too late - resulting in additional time and costs
Reporting successful migrations accurately
Ability to record Windows build information effectively
So we have built these directly into the software utilising the information from the CMDB.
Cloud Computing
As an aside we wanted to highlight how cloud has benefited us and implementation turnaround. The advent of cloud technology provides exciting ways to deliver and maintain software. Using Microsoft cloud technology to host our solutions we have ensured it is available from any device and have reduced software delivery time from month to a single day (subject to internal change control). Cloud Computing has helped us transform our business - why not see how it might help transform yours?
Note: we also implement LENS on-premise using local servers for some corporate clients who cannot utilise the cloud.
If you would like to discuss how our software might be useful lto you or apply to be on the beta please
---