---
INTRODUCTION:
I recently upgraded a test laptop to the latest Windows 10 Technical Preview Build. This post lists the observations I had post migration and I will update it as I continue to use my machine.
To recap the upgrade experience itself was positive and very easy, but before you upgrade please consider the following:
---
In summary I found that once I had upgraded the machine there was a period of time when the machine was sluggish, and this is totally understandable once you know why. As noted in my previous post the upgrade went very smoothly so these are one-time observations immediately after the Windows 10 upgrade had completed.
It is also worth remembering that the software is in Technical Preview mode so it will change and observations will be addressed.
1. Laptop slow after Windows 10 upgrade
Once I had logged-in to the computer I found the speed of the machine to be very slow, I assumed this was because the machine was running post-upgrade actions.
By "slow" I mean that every mouse click was non-responsive, the start menu would not appear and the new search area on the toolbar did not respond. My assumption was that the machine was "recovering from major surgery" and it would resume normal (or hopefully better) service later in the day. From a technical standpoint I assumed indexing of file and programs were occurring on the first login and this was the reason for the non-responsive GUI.
As the machine seemed to be taking longer than expected I looked under the hood. There was a hint towards where the problem might be as OneDrive popped-up to inform me it was downloading files: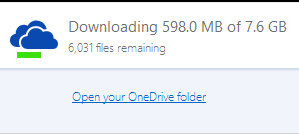 Further investigation showed that the disk activity on my laptop was very high and I assumed this was the reason why the machine was so slow: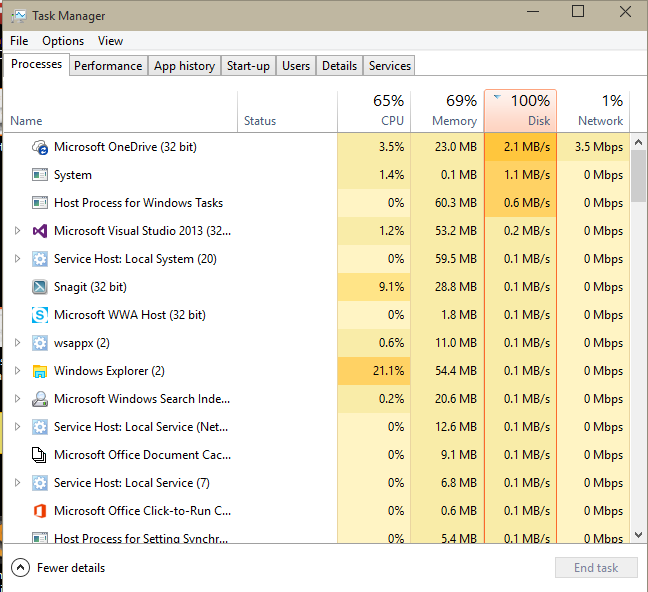 So it made sense not to push the machine any further and I let OneDrive complete its task. Note that my machine has a SSD disk in it and I am surprised my Internet bandwidth is big enough to download data fast enough to make a local process struggle. But nethertheless OneDrive completed its initial download and the machine became responsive again: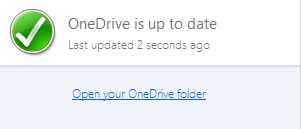 It is fair to conclude that it is worth logging-on for the first time on a consumer build / Windows 8.1 upgrade and let the machine complete some post upgrade actions. Seeing the upgrade process was so easy the wait for the machine to complete these actions are a small price to pay. It would be really interesting to see how the Windows 10 upgrade process work on-mass within a company.
2. Cortana is not enabled in the UK
As warned during the upgrade process some features are not available in different regions, to quote Microsoft:
"...feature and service experiences can vary depending on a variety of factors, including your language, locale, mobile operator, hardware manufacturer, phone model, and operating system version."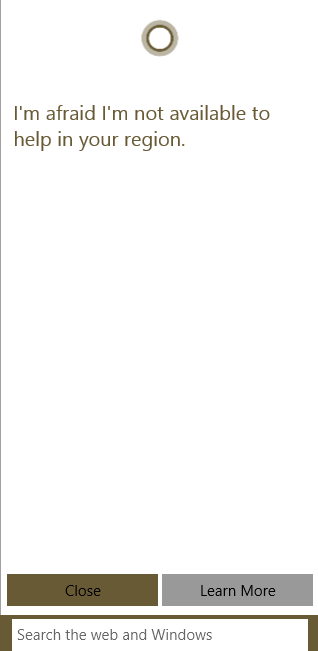 So I will have to wait for an update before I start having conversations with my computer. But I really like the new search bar and it is one les key press (than pressing the Windows key in Windows 8.1) to use the search feature.
One thing that's noticeable is when listing applications from the new search bar Windows 10 differentiates between a native Windows 10 application as a "Modern Application" and a legacy desktop application as a "Windows Application". One more step towards removing the term "desktop" when describing Windows and more towards "Device" which is more appropriate today.
3. Deleting Windows.old folder
Unlike Windows XP to Windows 7 migration the focus and recommended method of upgrade will be an in-place upgrade (not a wipe and reload). Therefore this small
A small observation, not really a Windows 10 issue. But seeing testing laptops with SSD like mine might have disk space constraints it may be important to do this. Just like Windows 7, Windows 10 creates a Windows.old folder on the system drive and keeps it for 28 days. The folder is large: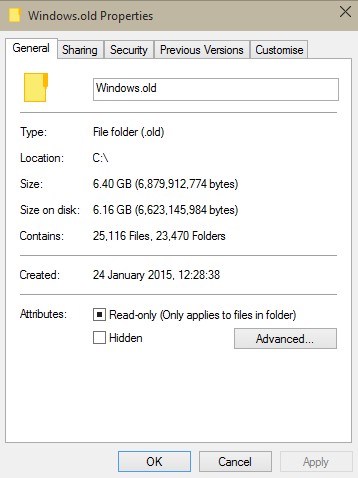 As this is a test machine and my data is backed-up I was happy to delete this folder immediately. But if you try to do this from Explorer, the machine will churn away for some time and then you will receive the "You require permission from SYSTEM to make changes to this folder":
One (and the eaiest) way to solve this problem on a single PC, I mean device, is to use Disk Clean-up. So we go to the new search bar and type "Disk" and then select "Clean up disk space by deleting...."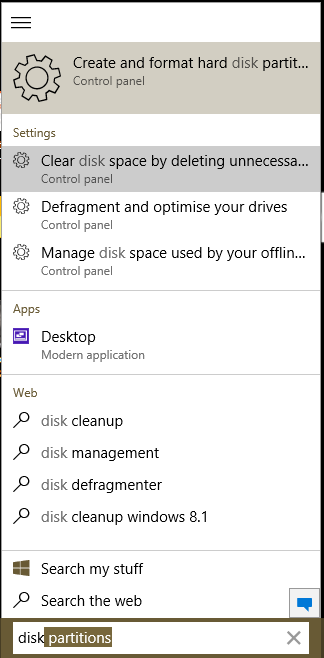 From the disk clean-up screen you need to tap or click Clean up system files so that the "Previous Windows" option appears: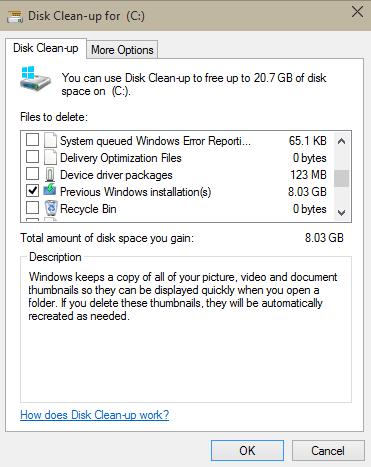 And the rest is pretty straight forward.
4. Office, Outlook, Visual Studio all working on Windows 10
I tried Visual Studio 2013 on the machine immediately to ensure it would work, otherwise the device would be useless to me. Visual Studio re-initialised which took a few minutes and now works perfectly fine.
Considering the OneDrive experience of downloading files I wondered if Outlook 2013 would need to re-download my mailbox from Exchange Online, at over 6GB I would prefer not to. Outlook worked fine and my profile and email were kept intact.
Lastly Office 2013 is working well. Meaning the key business use for this (test) laptop are still fully functional.
5. Feedback built-in
Assumingly as part of the Windows Insider program the Windows team have builtp-in rapid feedback into Windows 10. For instance, when suing the new settings app to connect to wireless for the first time I was presented with the question "how difficult was it to connect?" followed by a rating from 1-5.

Great idea and opportunity to feed straight back to the development team without having to fill-in web forms.
CONCLUSION:
Overall the upgrade process was easy and my main observation / tip would be to login to the computer and allow it time to finish post upgrade steps. Once these steps like indexing and OneDrive downloads are complete the machine is very responsive and usable.
We know it is pre-release but if you would like to discuss Windows 10 get in touch by pressing this rather large button!:
or download your free guide below.
---